Beijing, May 13 (Xinhua: Pan Jie, Shi Yucen) The Opening Ceremony of "The Splendor of Asia: An Exhibition of Asian Civilizations" was held at the NMC on the morning of May 13, 2019. Huang Kunming, member of the Political Bureau of the CPC Central Committee and Head of the Publicity Department of the CPC Central Committee attended the Opening Ceremony. Huang Kunming said that the 400-plus precious cultural relics from 49 countries come together for the exhibition transcending the constraints of time and space is conducive to enhancing friendly ties among Asian countries, boosting people-to-people exchanges, promoting the Asian civilization, and increasing Asian's cultural confidence.
"The Splendor of Asia: An Exhibition of Asian Civilizations", co-sponsored by the Chinese Ministry of Culture and Tourism, State Administration of Cultural Heritage of China, the NMC and China?Cultural Relics Exchange Center, is part of the cultural activities centering on the CDAC.
Following the two lines of "co-existence of diverse civilizations and connectivity of ancient and modern civilizations", the exhibition consists of four parts, namely, The Sun Emerges from the East: It Takes Time to Form Beauty, Beauty Travels Far: Those Travelling Long Get Far, Cherishing Each Other's Beauty for Harmony of the World, and Appreciating Others' Beauty: Courtesy Demanding Reciprocity. By combining traditional display and multimedia technology, the exhibition demonstrates the long history, cultural fusion and co-existence of diverse cultures of Asia, manifests the history of dialogues, exchanges and mutual learning among Asian civilizations, and reflects Asian cultures characterized by geographical proximity, close people-to-people ties and peaceful co-existence.
A total of 300-plus people attended the Opening Ceremony, including the leaders from the Publicity Department of the CPC Central Committee, the Ministry of Foreign Affairs, the Ministry of Culture and Tourism, State Administration of Cultural Heritage of China and Beijing Municipality, as well as representatives of the foreign embassies in China, of the delegations of participating countries and of the participating organizations. It is learned that the exhibition will last till August 11, 2019. (From the Client End of Xinhua News Agency)
A scene of the Opening Ceremony of "The Splendor of Asia: An Exhibition of Asian Civilizations"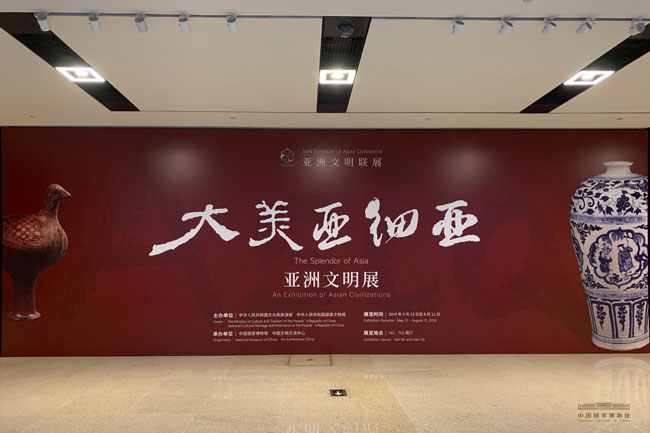 Exhibition Hall of "The Splendor of Asia: An Exhibition of Asian Civilizations"