On October 26, 2018, the First BRICS Alliance of Museums Conference took place at the National Museum of China (NMC). Revolving around the two major topics of "Smart Museum - Opportunities and Challenges" and "Functions and Missions of BRICS Museums amid Globalization and Anti-globalization", the attendees conducted in-depth discussions and shared their thoughts on the opportunities and challenges in the building of smart museums.
Participants delivering remarks
Professor Ferreira, Director of the Imperial Museum of Brazil, introduced that the museum has been implementing a digital collection project relying on corporate sponsorship, and suggested the members of the BRICS Alliance of Museums establish a digital catalog of collections. Dr. Yevgeny, Director of the State Historical Museum of Russia, shared their experiences in exhibition, public education and the application of new technologies, saying that the museum has established an electronic collection catalog with more than 45,000 images on its website. Dr. Sahai from the National Museum, New Delhi of India, said the museum has attracted more young visitors through QR codes, short videos and virtual experience projects. Ms. Sivera from Ditsong Museums of South Africa shared the museum's practice in leveraging state support to promote culture, expand networks, train talents, expand partners, and enhance social cohesion.
With the growing cultural needs of the public and the development of information technology, building smart museums has become a global trend and is now facing various challenges, such as lack of common standards, closed and fragmented management systems, serious shortage of funds and talents, imbalances in international cooperation and exchanges, and threats to cultural relics security and intellectual property rights, said Wang Chunfa, Director of NMC. He put forward a three-point proposal to the Alliance, calling for concerted efforts to set standards for smart museums, training talents with modern museum thinking and expertise, and give full play to the role of the BRICS Alliance of Museums in strengthening exchanges and mutual learning between civilizations to open up a path of smart museum development that fits national conditions and also meets international standards.
In 2018, NMC launched its smart museum project with the aim of preliminarily building a smart operation and service system featuring intelligent facilities, data integration, efficient management, targeted service, and security collaboration by 2021.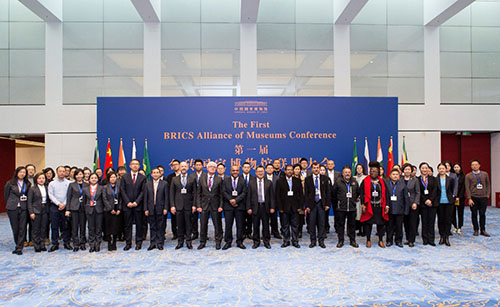 Group photo
Despite their different historical backgrounds and missions, the members of the BRICS Alliance of Museums all expressed strong interest and intention in exchanges and cooperation. After the conference, the participants visited the "Ancient China" exhibition at NMC.