Recently, the ICOM-CC Training Workshop for Conservation organized by the National Museum of China (NMC) and Fujian Museum was successfully held in Fuzhou, Fujian Province.
The four-day workshop featured eight lectures, one seminar, and one museum visit, covering such topics as the preservation, analysis and protection of metal wooden cultural relics, oil paintings, photos, and other museum collections. The workshop was delivered in English by teachers from eight member countries of the ICOM-CC Council including the United States, Britain, Denmark and Finland, and attended by 27 trainees from 24 museums and cultural relics conservation institutions in China. The Cultural Conservation Institute of NMC participated in the preparation and organization of the workshop. Liu Wei, Li Mo, Zhang Pengyu and Zhang Xinyu of NMC were enrolled in the workshop and obtained certificates.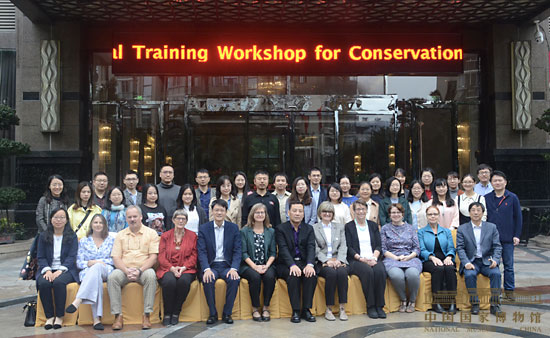 Pan Lu, researcher at NMC and member of ICOM-CC Council, presided over the opening ceremony of the workshop. Kristiane Straetkvern, Chair of ICOM-CC, Li Jinguang, Deputy Secretary-General of Chinese Museums Association and Zhang Huanxin, Deputy Director of Fujian Museum attended the opening ceremony and delivered speeches.
The workshop was hosted by the Chinese Museums Association, and organized by NMC and Fujian Museum. During the workshop, the trainees and teachers were engaged in heated discussions and frequent interactions. The workshop provided an important learning opportunity and communication platform for researchers and conservators of museums, enabling them to better understand the developments of conservation from a global perspective.